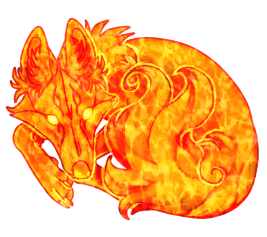 Maui - The fox of fire

The night air is still on the border of the newly reformed Kyriu coven, that is until a bright light begins to consume the darkness of the trees which line the lake stirring the young coven from their slumber, heat floods the surroundings areas, resulting in rapid snow melt.

His great light can be seen at nearly every corner of Nidria

It is Maui himself!

The great fox is large, far larger than any wolf, or any beast who could ever walk upon Nidria, he towers over the land, eyes resting upon the small den site of the coven, the fox lowers himself upon his haunches large tail wrapping around his body as he stares unwavering — a silent beckon to the wolves of Kyriu, and any others who dare to look a god in the eyes. 

He is back this much is clear...but what could he possibly want?